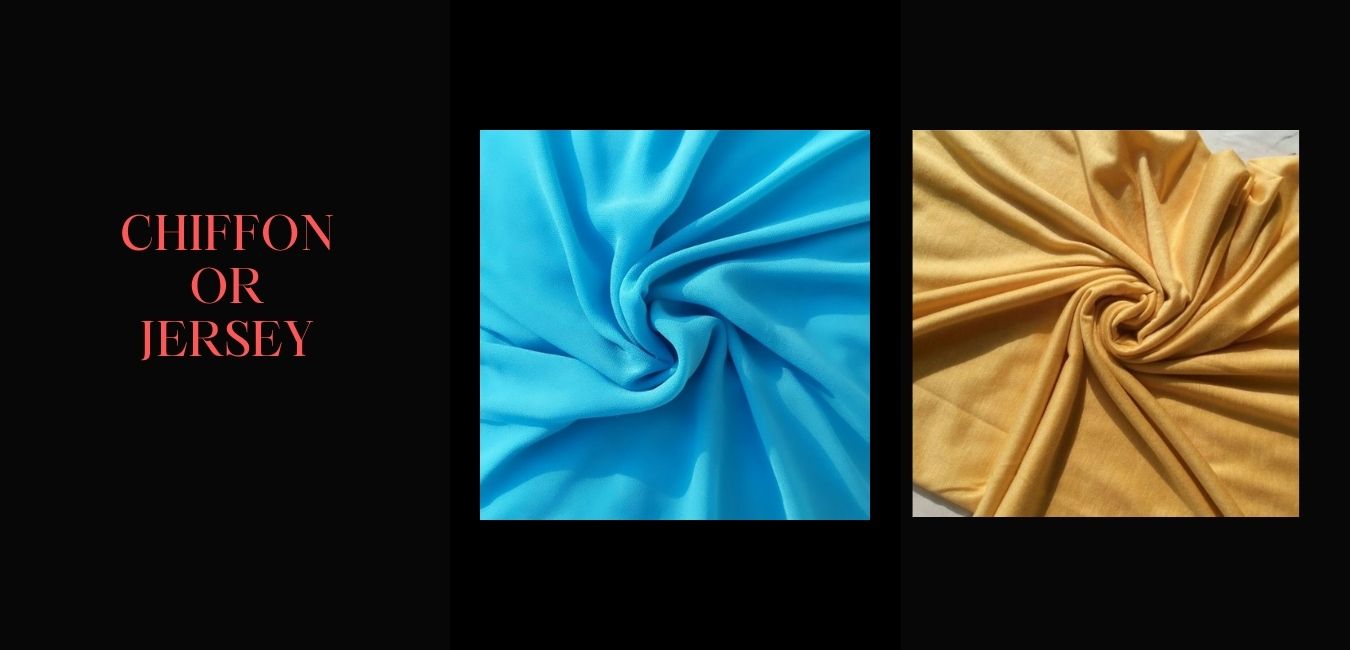 Jersey or Chiffon
Which one you choose while buying stoles online Pakistan
Over time, traditional shopping has now morphed into a thriving online E-shopping that has evoked physical buying into a digital one. Although the online presence of brands has turned shopping into an exciting and liable experience and brought a lot of convenience for the customers and clients, still there are a handful of challenges yet present in e-commerce, especially in buying wearable stuff.
If we talk about buying Stoles online Pakistan, a frequent complaint is that you find it confounding to sort through the quality or nature of the fabrics. In order to retreat this dubiety here are some guides about the most common Hijabs and Stoles in market: Chiffon and Jersey. It is not about telling you which one is better. It's about clearing the vision regarding salient differences between wide ranges of hijab fabrics.
CHIFFON HIJAB SCARVES:
If you wanted to have that luxurious and classy feel, go for Chiffon Hijab Scarves and Stoles.
Chiffon Stoles are silky and smooth by nature. Its decorous drapes add an element of elegance to occasion outfit and best suited to glam your formal or casual wear.
Pair up with an under-scarf:
To cut back the slippage, pair it up with a Hijab under cap. Secure it with pins to make extra fixation for all day long.
As they are made of a cocktail blending of fabrics, we can find them in idealized variations. They can be manufactured in cotton, silk, rayon, or polyester blending. Premium chiffon are best option for  buying stoles online Pakistan as it is the trend now that is exemplary because of less slippage.
They are gossamer, lightweight, sheer and frailly translucent. It reduces the heat retention and keeps you comfortable in those hot summer days.
Have you tried our Premium Chiffon Hijabs and Stoles? If not! you should select one from so many color choices today and enjoy it.
JERSEY:
Jersey hijabs and Stoles are instant go-to hijabs that provide versatility
Butter soft and luxuriously smooth. Jersey fabric is a bit supple that allows comfortable wrapping.
You can style them easily according to your OOTD without sacrificing practicality. You need a minor adjustment to stylize it with multipurpose looks.
Forget the hassle of pins as the jersey hijabs leave you free from the tension of fabric slipping. It stays in place all day long.
Our Premium Cotton Jersey Hijabs are extremely popular with sisters. If you have not tried one from our online Hijab store in Pakistan then we recommend you to try one to understand why our Jersey Hijabs are so popular with sisters.
Jersey Hijab Scarf or Chiffon Hijab Scarf ? Which one is recommended?
With a sincere expression, there are many fabrics out there and every one of them will give a contrasting look to your personality. Honestly, it all comes down according to your demands and needs. You got to know which Hijab works best for you. It's up to you to infer your style first. Do you want sleek drapes or cozy wraps? It might be possible you prefer the turban style more than the Criss-Cross style. You favor the chic look more gently. And once you figure out the right style, you can surely take your appearance to the next level by having the ideal material to accomplish that specific style. Remember, the correct choice will feature your character more.
Genuinely, Jersey scarves are super versatile and practical for an everyday look. With its sophisticated stretchy nature, you can easily stylize it in unique looks. Or else you want to limelight your outfit with a polished look, you need to go for chiffon scarves.
After reading this article, I'm sure you'll be less perplexed while buying Hijab Stoles online in Pakistan. So the next time you try shopping scarves online, you have the know-how of the right product for you especially the Hijab material suiting your requirements.