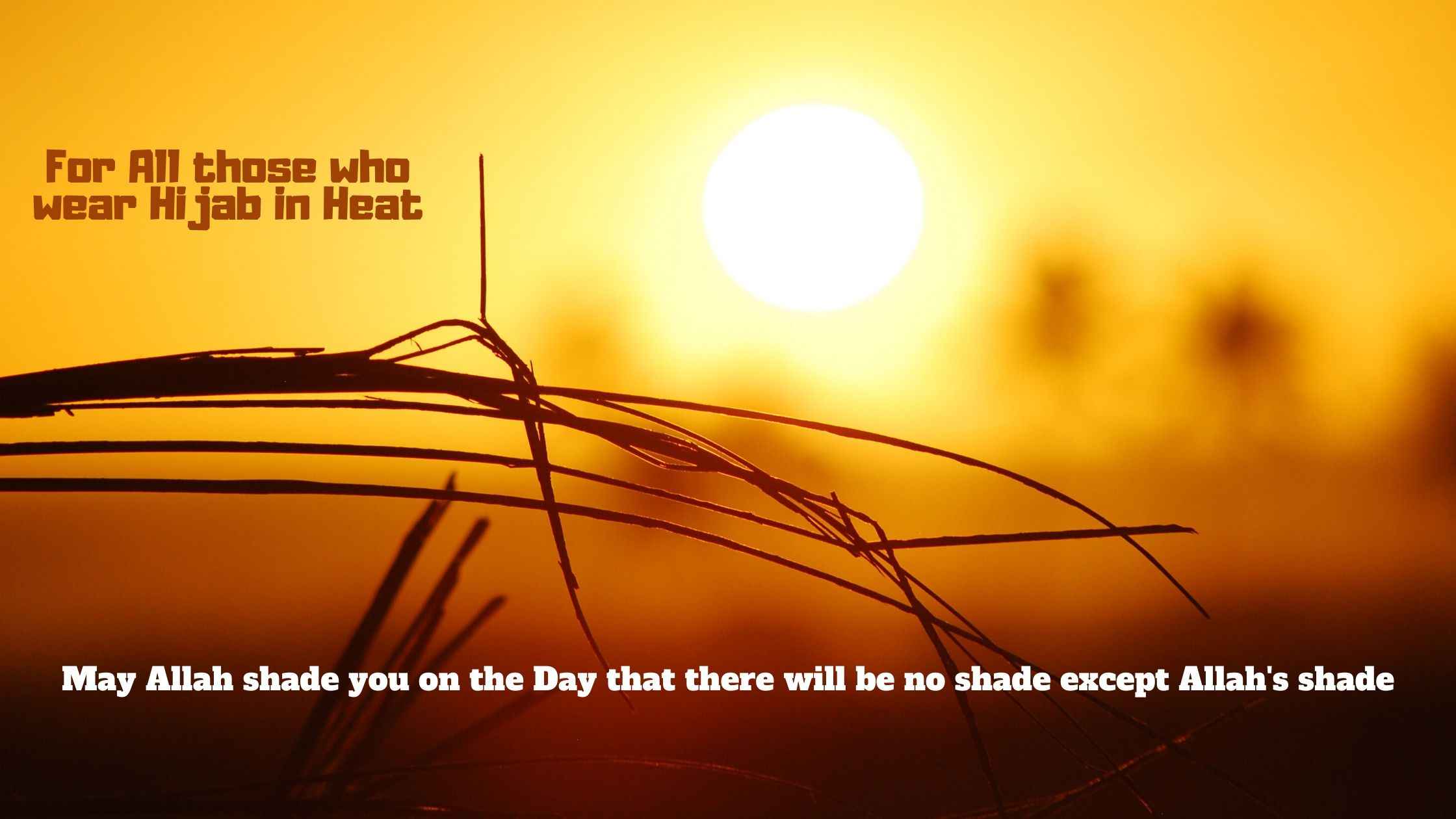 Hijabs For Summer Seasons
What to wear and What to avoid
Are you looking for Hijab Scarf online in Pakistan which are ideal for summer season
In next few paragraphs we are going to analyze and recommend for you scarf materials which you can comfortably put on all through these hot and humid days.
As a Modest Muslimah it is really critical for you to pay special attention to the material of your scarves, as you are sporting an additional layer of Clothing/fabric, which literally means an additional layer of warmth.
Let's see what are material choices available to you buy Hijab Scarf Online in Pakistan, which will keep you cool and comfortable during these scorching summer months
Cotton Hijab Scarf
Cotton is a fabulously breathable naturally available material. It permits air to flow into the scarf thus maintaining and preserving your head cool and certainly Air conditioned. Because of its natural cooling effect we recommend for you to shop for cotton scarves online. We have in our store a special variety of Ripple cotton which are not only cool but with more than 20 color options. You can buy them Here.
Viscose/Rayon Hijab Scarf

Despite the fact that Viscose isn't always a natural fiber, it is mostly manufactured from a thinner thread than cotton fiber. Scarves made with viscose are normally lightweight. Another variety worth mentioning is Rayon which is Silk Fiber mixed with Cotton we call them on our online store as Cotton Silk. Viscose/ Rayon are mostly preferred in dry months that is from April to June and September, October, however we do not recommend these scarves during monsoons and humid months which are July and August. Preferably, you need to put on light shade scarves as opposed to darkish, as darkish shades take in extra heat, making you feel a little bit hotter. But for special events once you are indoors in Air conditioned environments you can use dark shades as well. You can buy Viscose and Cotton Silk Hijabs at reasonable cost at our on Hijab scarf online shop Here!
Lawn Hijab Scarf

Lawn is another awesome natural material that is breathable and is the Scarf of choice for most of our customers, especially students and working females Its mild weave permits air to flow through your scarf without any difficulty, as a consequence it makes you feel cool and comfortable. We recommend for ladies looking for comfort and style while wearing scarves in Pakistan's hot summers that they should go for Lawn scarves. We have a wide Variety of Lawn Hijabs with exquisite colors and that too at a very reasonable price as compared to other Online Hijab scarf stores in Pakistan. You can buy your next Lawn Scarf at cost effective price Here!
Chiffon and Georgette Hijab Scarves

Mixed Varieties of scarves made for hot season in Chiffon and Georgette is another excellent Choice especially for those Hijabis who are working and looking for a scarf which keeps them cool on a warm day. Some people may differ with our recommended choice of Chiffon and Georgette as ladies Hijab Scarf for summers but we are basing our recommendation as per the feedback of our customers who are demanding these scarves in these hot months. Chiffon and Georgette are excellent fabrics for, as they're normally sheer but you require undercaps/layers to avoid Slipping of scarf from your Head. We Claim that we have very wide Choice of these Hijabs and that too at very low prices as compared to other Pakistani online Hijab stores. View and Shop for Chiffon and Georgette scarves in Pakistan Here!
That is for our recommended Hijab materials for summers. Beat the Heat with These Hijabs and add them in your Wardrobes.
Now coming over to scarf materials which are neither recommended by us nor are demanded by our customers during hot months. We recommend not to buy these scarves during summers if you believe in Just in Time approach. However if you get a good deal while exploring for these Hijabs online in Pakistan then do avail that deal.
Because as a Hijabi you are already making an effort to please Allah SWT and facing the harsh weather with confidence therefore it is utmost important for you to avoid all those Hijab Fabrics which are not breathable and makes things uncomfortable, warm and sweaty for your Head.
Here are those Fabrics which you should avoid for your modest wear in hot months
Pashmina
Pashmina are made of lamb wool. Although there are mixed variety of pashmina Hijabs in market however they still have pashmina fiber blends which makes them very warm to wear. These are specifically winter Hijabs and have no space during summers. Wearing pashmina Hijabs in heat will make you feel overheated and unbearably sweaty therefore you shop your pashmina scarves at the start of autumn just before cool winters.
Jersey
Jersey is a long lasting and water-repellent clothing material. It is not airy at all and makes you sweat. Many hijabs are made using Jersey and our customers also demand these Hijabs in Summers but our recommendation for our customers is that they should avoid these Hijabs in summers because it will put them in trouble due to over sweating. Still if you need for a stretchable material like Jersey I summers then go for Knitwear which will keep you cool
Nylon
Nylon is typically used to make leggings and swimwear, so despite the fact that it may not be used as a material of hijabs, there's still a possibility. Therefore we are specifically mentioning this material so that you should avoid it. Using nylon while you sweat during sweltering heat will put rashes on your skin and this material is otherwise harmful and we recommend our Hijabi sisters to avoids this material for their every kind of clothing
Silk
Despite the fact that silk is a natural fiber that is lightweight and tender, but we do not recommend it for summers as Silk Hijab varieties available in market are actually not pure Silk rather Silk blended materials and these are not a really perfect choice for hot summer days. These Silk scarves are attracted to moisture and could make rash on with your sweaty skin. However if you can find a scarf made with pure silk then you can use them in summers but rest assure it would be very expensive. We have in our store Mixed Variety of Silk Hijabs which you can use in mild summers that is from September onwards.