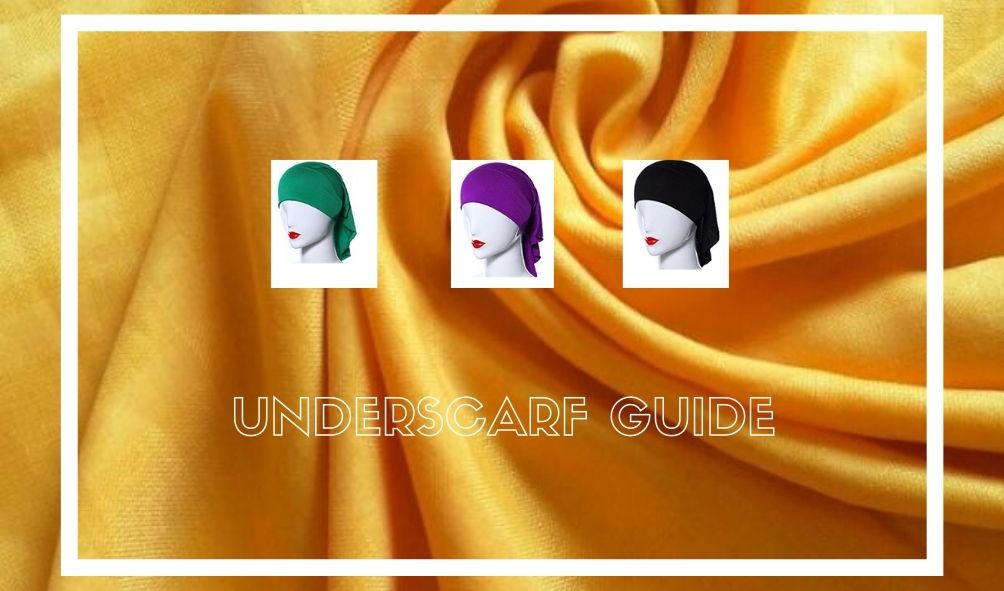 Everything  Hijab Caps Online Customer Need to Know about Underscarves
What is an underscarf ? Which type of underscarf do I need ? How to wear an underscarf ? Why to wear an underscarf ? And  Where to buy an underscarf Hijab Caps online in Pakistan. I f any or all of these questions are pestering you then trust us this article is for you.
You must have heard a lot of Jargon about underscarves like under hijabs, turban, bonnet, bonnet cap, under cap, Tie back band, dual band, Tube, bandanna and headband etc. We will try to discuss all the popular underscarves types so that you can be sure which underscarf suits your particular need. Let us first understand what is an underscarf.
What is an Underscarf ?
In broad terms an underscarf is a small piece of Cloth sewn in different styles and is used to cover your hear and tie them properly so that hair are not visible from your Hijab scarves. A few benefits of using underscarves are enlisted below.
First and foremost benefits is that you can easily take care of your wisping hair coming onto you face. You will not have to bother to keep adjusting your hair Wisps after you start using an underscarf.
There are several Hijab fabric types which are Slippery but look gorgeous and you don't really want to miss those Hijabs because of Slippery nature of fabric. Underscarf comes to your rescue and facilitate you to wear Slippery Hijabs Like Chiffon, Silk and Georgette
Same is true about Hijabs which are transparent or see through but you still want to wear them because of their splendor. Underscarf will help you to cover your hair under these see through Hijabs ensuring you look stylish with Modesty. A classy example is Organza Hijabs. However you would need a full underscarf to cover your neck area to ensure your Hijab is fulfilling your modesty requirements.
Which Type Of Underscarf do you need
Once you start to search for an underscarf online in Pakistan or looking for an underscarf in market you get a little confused because of wide variety and styles which are being presented to you with different names. No need to get confused as ultimately all undescarves are meant to be worn under your Hijab and scarf and all are serving single purpose. However we will be discussing each type now so that you can select the appropriate one suiting your need.
 Lace Underscarf Cap

 These underscarves are made of lace material which is a stretchable  fabric, Polyester Yarn is generally used to produce these Caps. These are non-Slip and Fits very easily on your head without giving a bulky look. You can find these Lace underscarves both in Tube Style and Tie back bonnet caps. There is no issues of sizing these underscarves as they easily fit in because of Stretch.
These are very light weight and are available in variety of colors which can enhance your Hijabs Look..  Also if you are using a Layered Hijab Style then these will benefit you being very thin without a hint of bulk. You can Chose your next Lace Hijab online in our Hijab accessories section.
Tie Back Bonnet Underscarf Cap
These are the most common and popular underscarves with sisters looking for Hijab caps online in Pakistan. Fabric used for manufacturing these caps is generally cotton jersey, however you can get them in Viscose/polyester fabric as well. Its Shape is like a cap with tie ends at the back. You just have to wear them on your head like a normal cap and tie the back ends on the back side of your head and let your hair at the back to come out from a small opening at the back.
If you like to add a little style to your underscarf  then you can combine by wearing a Lace underscarf beneath your Bonnet Cap to show a Layered effect This you can do by keeping a strip of your Lace underscarf  visible from front that too of a matching color.
Tie back Bonnet caps are available in different styles, we have in our Hijab online shop in two categories, simple Plain one made with cotton jersey cloth and Plain with a matching Piping also in cotton jersey Cloth. These caps are also available with beads but our observation is that these are not very popular with Hijab observing sisters
Tube Underscarf Cap

Tube underscarf is the most popular underscarf along with bonnet caps. We can say that Tube and bonnet compete with one another in terms of popularity among Hijab observing sisters. Basically Tube underscarf is made in the form of a Tube which is open from both ends. Mostly it is made of stretchable Cloth which can either be cotton or polyester. It is a universal size underscarf and anyone can buy these without bothering about its size because of the stretchable fabric. There are various designs and styles of Tube underscarf available in market but our recommended one is simple Plain Tube
You can wear Tube underscarf very easily, just slip it over your head and it is placed. Normally you pull it completely over your head  upto the neck and then place it back comfortably adjusting on to your head so that all your hair are inside tube and you get an hair free  fit on forehead.
Another style which you can adopt with Tube underscarf is by employing it with a Lace underscarf to produce a layered effect. You wear a matching Lace underscarf over the Tube one in a manner that a Strip of Tube is visible at front beneath a Lace one. You can choose an appropriate Tube underscarf from our website, where you have option to select either a simple tube in different colors or another variety is Tube with Dual tone which you can use from both sides with two separate color options on each side thus giving you flexibility of buying one Tube underscarf and enjoy benefit of Dual color.
D Tie back Head Band
These are extremely comfortable and easy to handle underscarves. These are not like caps rather these are headbands with flaps to tie back the band. Another version of this headband has a elastic at back. You can get these in different fabrics but the best of them are made of cotton Jersey.
You can wear these underscarves by placing this band on forehead covering your hair and then tying the back Flaps at the back side bringing your back hair above the tying Flaps
We have these D tieback Head Bands at our website in four different colors in Cotton Jersey cloth.
Full Underscarf
 If you are looking for an underscarf  which gives you complete coverage and  gives you confidence that your neck area is not exposed accidently and also if you are wearing a transparent Hijab then  you are covered properly then your choice should be a full underscarf.  A full underscarf is basically a smaller version of ready to wear Al Amira Hijab.
Ninja Underscarf
 Ninja underscarf is also like a full underscarf and is usefull once you need full coverage of your hair, neck and chest. The only difference between Ninja and full underscarf is that the Ninja one is fitted along the neckline and also fitted at you Jawline. Ninja Underscarves are also available in different fabrics and colors , however our recommended fabric is Cotton Jersey.